For all types of special events, weddings, family parties, exhibitions...
Without doubt, three of his most popular characters are those of Town Crier, Toastmaster and Master of Ceremonies. Between them, they've attended a huge number of events, throughout the UK and internationally, from weddings and family parties, through to arts festivals, sporting tournaments, civic ceremonies, trade exhibitions and many more.

So, if you're planning a special event or promotion within the next few months and are looking for an MC to lead the programme, then you've come to the right place. Hispersonal experience as a festivals and events organiser means that you can have confidence in his understanding of what's required and his ability to deal effectively with the unexpected.
His flexible approach means that any number of roles can be adapted to suit the requirements of the event. From reading proclamations in his role as Town Crier, to calling for order as Master of Ceremonies or Toastmaster, Alan instinctively knows the role that will be best suited to the occasion.

As Toastmaster, he can easily take command of an event, if required, and help to ensure things run on time and without a hitch. If you're looking for someone who has wide-ranging experience of all types of events, with an excellent understanding of etiquette and protocol, and who won't let you down… then he is just the person you need.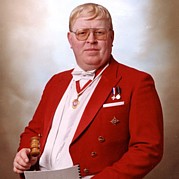 Price From £350.00
Area: London - Nationwide