Jamie and Courtney
Jamie and Courtney are the Midlands champions and are 10 dance champions meaning they can perform/teach any of the Latin and ballroom dances from the waltz and the foxtrot to the tango and the samba or even a quick cha cha cha!

Jamie and Courtney can perform up to 2 x ballroom dances and 2 x Latin dances per event.
They are quite happy to encourage the guests onto the dance floor and partake in some social dancing with the guests and pose for photographs. Jamie is also quite happy to speak on the microphone if the client requires this.

Jamie & Courtney have been dancing together since February 2010. Jamie has come from a successful competitive background, whilst Courtney has only recently found her way to competitive Ballroom and Latin dancing having come from a successful formation team.

They intend to compete on an international level for England, and will be competing in chart events all over the Nation to earn their right to represent their country.

As well as competing in England & Internationally, they are also available for demonstrations varying from tiny to huge events.

Jamie has won both the British and UK Latin American championships whilst finishing runner up in the British and UK Ballroom championships.

Jamie and Courtney have been lucky enough to compete and demonstrate all over the world, with a particular highlight being when he and his partner were invited by the Sheik of Abu Dhabi to do a private demonstration within the palace walls for his wife and himself!

Price From £ POA Depending on location

Areas Covered Midlands - Nationally/Internationally
With the increase in popularity of Strictly Come Dancing, we are pleased to announce we are now offering fabulous Latin and Ballroom dancers for hire for all events, tea dances and demonstrations.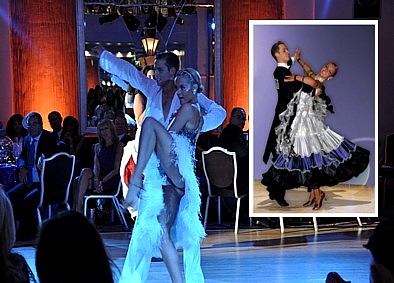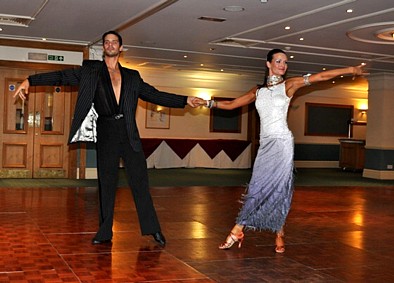 Katie and Martin
Katie and Martin are based in the Lancashire - Blackpool area.

Available from August 2011

If you were looking to book any of the Strictly Come Dancing couples these guys start at around £1,000...

Price From £ POA Depending on location

Areas Covered Blackpool - Nationally/Internationally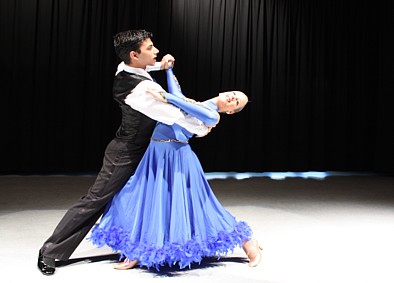 All our International Ballroom and Latin American dancers for hire are professionally trained in both Latin, Cha Cha, Samba, Rumba, Paso doble and Jive and Ballroom style, the Waltz, the Tango, the Slow Foxtrot, the Quickstep and the Viennese Waltz. Salsa, Swing and Lindy Hop styles are also available through Steppin Out.
Rebecca and Nuno

REBECCA AND NUNO PROFESSIONAL LATIN AND BALLROOM CHAMPIONS

Rebecca
Dance Training
Rebecca's dedication to a life of dance started at the age of 6. She began ISTD training, and was taught by some of the most established and renowned teachers in the dance world. At the age of 16 she concentrated on International Ballroom & Latin American dance where she achieved outstanding results, including National and International Championships. Rebecca continues her dance training as believes there is always more to learn and ways to improve.

Performance Experience
As well as regular shows and demonstrations for dance schools and co operate businesses Rebecca's most recent tv appearance was Diet on the Dance Floor, a series set by Living TV. 10 Professional dancers were given a member of the public who had never danced before, and they had to teach them a different style of dance very week to then perform for the cameras and be voted off one by one by 3 well known judges. The dances varied from Cha Cha and Tango to Street and Bollywood, and after 10 challenging weeks Rebecca was crowned champion with her partner Mark.
Other TV and film work includes various Danielle Steele and Denis Potter movies, commercials for ASDA, Strong Bow and modeling contracts and fashion show work for dance wear.

Competition Experience
Competing from a young age Rebecca has many championship titles ranging from Dutch Latin Champion, Welsh 10 Dance Champion and UK 10 Dance representative. Rebecca is currently one of the UK's top Professional Latin dancers.

Nuno
Dance Training
Nuno did not start dancing until the age of 15, but from that moment he has trained non-stop with some of the world's top dancers and coaches in the UK and abroad. His extensive Ballroom and Latin training has led him to win many top National and International competitions, as well as representing South Africa in the World Championships. Nuno still trains with the worlds leading teachers to keep improving and learning as much as can.


Performance Experience
Nuno performs on a regular basis for a variety of functions from charity events, cooperate parties, and dance school demonstrations. He has had many stage and tv appearances including The Generation Game, Strictly Come Dancing assisting Len Goodman, and The Big Breakfast. He has also danced for major companies modeling sportswear such as Adidas, Nike and various promotions for Smirnof. He also has many film credits to his name.


Competition Experience
Even though he started competing relatively late Nuno has many championship titles, and has represented his country all around the world. He was 3 times South African Latin Champion and made the finals of most major events in the UK and Europe. Nuno is currently one of the UK's top Latin dancers.

Price From £ POA Depending on location

Areas Covered Dorset - 2 hours radius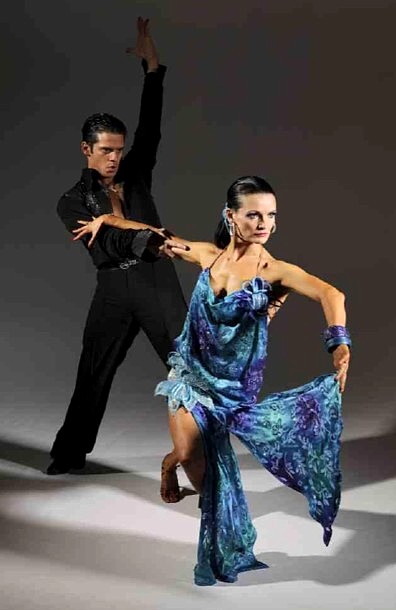 ---
---