A night of illusion and magic to mystify and entertain your corporate or private event guests...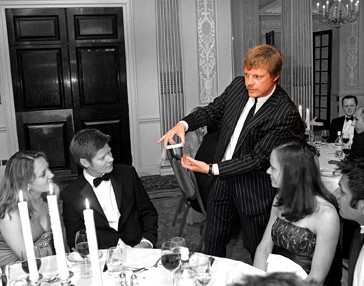 Price From £350.00

Areas Covered South East - Nationwide

The High Society Magician and Mind Reader
Having been invited to perform at Buckingham Palace, for Celebrities, Blue Chip companies and on Television, he is equally at home in either large or small events.
Close-Up Magic: "Coins, rings, watches phones they all seem to do very strange things in his hands!"
Mind Reader: He makes no claims to have any psychic powers. The truth is he actively 'claims' to have none.
Instead his talents: revealing the thoughts of other people, predicting and influencing their actions and creating conditions where your guests are able to read each others minds, all stem from Combining psychological techniques, hypnotic language patterns, misdirection and magic to give the impression of an active sixth sense through the clever combination of the known five senses.