A night of illusion and magic to mystify and entertain your corporate or private event guests...magicians for hire, close-up magic hire, wedding magician, wedding entertainment, adult magician hire, corporate magician hire.
The High Society Magician and Mind Reader
Having been invited to perform at Buckingham Palace, for Celebrities, Blue Chip companies and on Television, he is equally at home in either large or small events.
Close-Up Magic: "Coins, rings, watches phones they all seem to do very strange things in his hands!"
Mind Reader: He makes no claims to have any psychic powers. The truth is he actively 'claims' to have none.
Instead his talents: revealing the thoughts of other people, predicting and influencing their actions and creating conditions where your guests are able to read each others minds, all stem from Combining psychological techniques, hypnotic language patterns, misdirection and magic to give the impression of an active sixth sense through the clever combination of the known five senses.
Close Up Magician Dave
Whether your party is to entertain family, friends and/or business associates, every experienced host and hostess knows, without careful planning, a party very soon begins to flag.
A willing guest, who knows a trick or two, soon gathering an enthralled group of people, often overcomes this.
Imagine the advantages of having a professional magician, who can mingle unobtrusively with your guests, entertain and then retire discretely into the background. Someone with years of experience in close-up magic, who knows when to start and more important, when to stop.
Dave has made this form of entertainment his own speciality through years of entertaining at corporate business functions and private celebrations.
Martin's Magic
Children's Entertainer - Close Up Magician
Martin has been performing magic for over 30 years. He is a full-time professional magician, a member of the Magic Circle, Equity and various professional magic organisations.

Martin has a wide range of performing experience and loves entertaining both children and adults.

Magical Entertainer - Fun Magic for all ages. Complete Party Packages Available.

Barry - The Life-Size Ventriloquist Dummy. Balloon Modelling. Puppets.
Children's Live Magic Show. Adult Close-up Magic, Table Top Magic

Paul Close Up Magician
Paul provides the very best in magical entertainment. He will charm and delight your guests with his unique blend of close-up magical artistry. Leaving them amazed, bemused and bewildered but above all thoroughly entertained. Whether it be mix and mingle or table magic. The perfect complement to your special occasion.

Performing at top UK venues including Blenheim Palaceand Alexandra Palace, but equally at home in your front room, or local hall.

In a wide variety of situations from weddings, company dinners to trade shows and corporate hospitality.
Manchester Magic
Magician - Children's Entertainer, Audience Participation, Adult, Corporate, Comedian, Close up

"A Roller-coaster Ride of Comedy, Fun & Magic" This magician makes your event memorable with his unique blend of Close-up Magic, the most personalised form of entertainment. Comedy Cabaret Magic will further enhance your event. His celebrity clients include the Beckhams & he has amazed HRH The Prince of Wales. Manchester United, PC World Business & Hitachi are among his corporate clients.

He is a Close-up & Cabaret Magic Award winner & has appeared on television with Prince Charles, Ann Robinson & Ian Wright. He carries full Public Liability Insurance.
Cheshire Magic
(This Magician will enhance your Reception in Manchester, Greater Manchester, Lancashire and Cheshire)

This Table magician will entertain and mystify your guests with his unique style of mind-blowing close up tricks.

His intimate style will not interrupt the flow of your event but will add that magical sparkle that will keep your guests remembering your special occasion for years to come. Modern quirky magic which will keep your guests amazed.
Close-Up Midlands based Magician
This is a Professional Magician based in the Midlands. He is available for Corporate Events Trade Shows, Weddings, Product Launches and Private Parties. At weddings he will mingle with your guests after the service and keep everyone thoroughly entertained before and during the reception. Throughout the meal magic can be a fantastic ice breaker, bringing together groups of guests who didn't know each other before.
His magic is also ideal for private functions and other special events.
He is always happy to discuss your special requirements.
He specialises in close-up magic, a unique form of entertainment that is ideal for any corporate event. Moving freely amongst guests during a drinks reception, or at tables during dinner, everyone will be entertained and amazed by his sleight of hand magic - ensuring your event will be long remembered.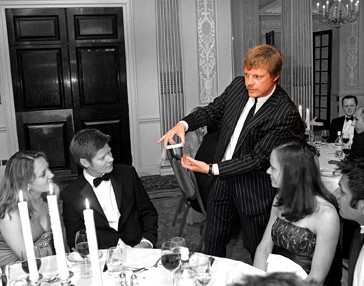 Price From £400.00

Areas Covered
Midlands - Nationwide
Stage and Close-up Magician Dave

David is a proud member of The Magic Circle and Equity. He can offer two 40 minute stage sets of magic as well as close-up effects. David caters for Weddings, Corporate Events, Private Parties etc.
Wedding Magic
This Magician is available to hire as a Wedding Magician a Table Magician or a Close up Magican in London, Surrey, Hampshire, Dorset, Berkshire, Bournemouth, Portsmouth, Southampton, Basingstoke, the New Forest, and the Isle of Wight. Roger will also travel across the UK to be part of your next event.

He has performed at countless weddings and wedding entertainment is his favourite type of magic. Wedding Magicians are becoming a must have. So if you are looking for Wedding Entertainment ideas in Hampshire, Surrey, Sussex, Dorset, Berkshire or London why not hire a Magician for your Wedding Reception Entertainment.
Pick Pocket and Close-up Magician

This is one of the UK's busiest Wedding Magicians, as well as being booked directly, He is also the first choice Wedding Magician of many of the countries leading Wedding Entertainment Specialists. He is also recommended by some of the top Wedding Venues in the UK.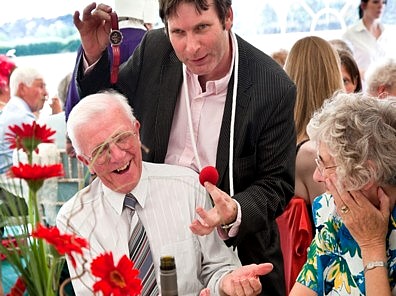 Price From £390.00

Areas Covered
Midlands - Nationwide



Price From £350.00

Areas Covered South East - Nationwide


Price From £350.00
Area: Midlands/Nationwide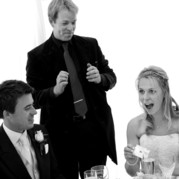 Price From £350.00
Area: S.E. - Nationwide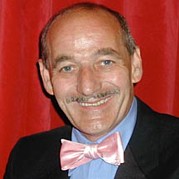 Price From £350.00
Area: S.E. - Nationwide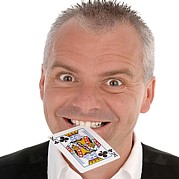 Price From £400.00
Area: S.E. - Nationwide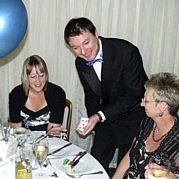 Price From £350.00
Area: S.E. - Nationwide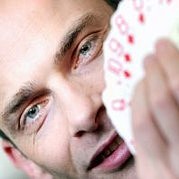 Price From £350.00
Area: MAN - Nationwide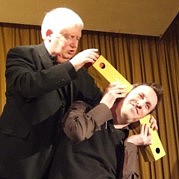 Price From £350.00
Area: Cheshire - Nationwide