This Dance Company can provide performances for a range of different events including, but not exclusive to:

Weddings | Birthdays | Corporate Events & Dinners | Exhibitions | Fundraisers | Conferences
Hen Parties | Christmas Parties | Festivals | Moroccan Themes

A typical show consists of one 20 - 25 minute performance (ideal for weddings / birthdays) or one / two 10 - 12 minute performances (ideal for corporate events). This begins with the entrance of the dancer(s) on stage with veil(s), followed by an upbeat belly dance for the audience to watch. If appropriate, the show can finish with lively audience participation which is encouraged and led by their dancer(s).

They have many packages available to choose from to suit your event:

For smaller events

Solo Package:
One dancer performing to music CD
One or two live Darbucka Drummers can also accompany the dancer

Duet Package:
Two dancers in co-ordinated costumes performing to music CD
One or two live Darbucka Drummers can also accompany the dancers

Trio Package:
Three dancers in co-ordinated costumes performing to music CD
One or two live Darbucka Drummers can also accompany the dancers
For larger events

Group Package:
Five dancers in co-ordinated costumes performing to music CD
One, two or three live Darbucka Drummers can also accompany dancers

Band Package:
One solo dancer performing with a full traditional Arabic Band
(No CD is used for the performance in this package)

Tailor-made

Any number of dancers and musicians required
As many acts throughout the event as needed
Sets of 10-12minutes or 20-25minutes
Sufficient advance notice is advised for booking over 10 dancers.
They also offer a specific Hen Party package.

Each show is tailored to suit the needs of your particular event, and can include any number of dancers from a solo performance to a group act of up to eleven dancers. One or more live Arabic percussionists, or a full band, can accompany their dancers for heightened authenticity, and props such as swords, zills and fan veils can be included for added impact.


Info/FAQs

How much do your shows cost?
The cost of their shows depends on the location, date and time of your event, and the number of dancers that you would like to perform. They can provide shows for national and international events, and you can choose to have a solo performer or a group act of 2 - 13 dancers. To obtain an accurate price for your event, please contact us with the postcode of the venue and we will be happy to provide you with a quote.

What do your shows include?
They offer the option of one performance lasting 20 - 25 minutes, or two performances of 10 - 12 minutes each within the same hour. A typical show starts with the entrance of the dancer(s) with veils, followed by a performance for the audience to watch, and ending with an opportunity for audience participation as encouraged by the dancer(s) if appropriate.

Can I request a different format for the show?
Yes, we are always very happy to discuss your particular requirements for your show and we can create a bespoke performance for your event. For example, they can provide a dancer to give a 10 - 15 minute performance, followed by a 30 minute informal class for your guests.

How many dancers would you recommend for my event?
The number of dancers for your event depends upon the space available at the venue. If you are hosting an event in a very large venue with a very large audience, they would recommend a group performance of 5 or more dancers together with accompanying musicians to provide added authenticity. If your event will be a more intimate occasion in a smaller space, they would recommend booking a solo, duet or trio performance. For group performances including more than three dancers, they would always recommend that you have an uneven number of dancers (i.e. 5, 7, 9 or 11) as this allows the symmetry of the choreography to be presented more effectively.

What do I need to have at the venue?
You will need a secure and private area where our dancer(s) can change into their costume(s), and a safe place where they can leave their belongings throughout the performance. They will provide the performance music for your show, but you will need a CD player or sound system at the venue so our music can be played.

What time will your dancer(s) arrive at my event?
Their dancer(s) will arrive half an hour before their pre-arranged performance time.

What happens if my event is running behind schedule?
They're fully understand that events can run late and it is sometimes difficult to stick to the planned schedule, and so our dancer(s) can start the performance up to 20 minutes later than initially agreed. However if the performance begins more than 20 minutes late, there will be an additional fee of £30 payable in cash directly to each dancer. Unfortunately if the performance is more than 30 minutes late, there is a chance that one or all of their dancers may need to leave if they have another commitment and are unable to accommodate the delay.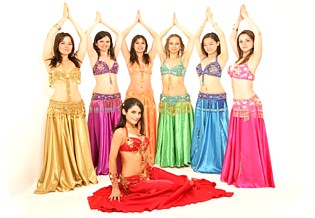 Hire a Belly Dancer - Belly dancing is such a great way to get fit and it's fun at the same time.
Enjoy a night of beauty and grace with a middle eastern promise...

London Belly Dancer Shows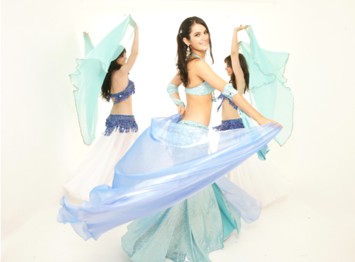 This London Belly Dancer performs around the world at exclusive venues and events.

She provides performances of 15, 20, 30 or 45 min, or of the time requested by the client; and include both choreography and audience participation plus a mix and mingle welcoming at the start of events.

For even more impressive performances she can dance sword balancing acts.

Her belly dancers have performed world wide and can be accompanied by a live band.

15, 20, 30 or 45 min performances

Price From POA

Area: London - Nationwide