Nothing brings out the fun like our range of Games and Simulators for Hire. Perfect for adults "BIG BOYS TOYS" and children alike, these Giant Games will provide hours of fun at any private party, street event or corporate or Company function. F1 Formula One Simulator, Golf Simulator, Dancing Machine, Giant Scalextric, Laser Shooting Games, Airplane and Helicopter Simulators for hire. We can supply a great selection of top quality giant games and simulators available for hire at affordable rates and can deliver them nationally and internationally. We the quality of our giant event games entertainment.
Airplane Simulator Hire
Using the real fuselage of a single prop plane, we have a brilliant flight simulator which gives you chance of experiencing the elements of real flying. In the game we can choose a variety of flight locations, conditions and planes. As the pilot you will get to steer, accelerate, dip, flip and rotate. We have mounted a 50" screen on the windscreen of the simulator to give an immersive and brilliant experience.

This can be branded to suit your requirements

Space required: Width 2m x Height 1.6m x Length 4.8mm
(4m without the nose)
Power Requirements: 1 x 240v normal socket.

Robinson R22 - Full Sized Helicopter Simulator Hire
We are extremely proud to offer you our latest and greatest simulator product. Inside the cockpit are the real controls off the R22 Helicopter. In order to fly you will have to master the various skills required, even getting it off the ground isn't too easy. You will see in front of you 3 x giant 42" screens which simulate the flight in action.
The full sized Robinson R22 helicopter simulator! This is a unique virtual reality simulator and the worlds greatest big boys toy! You can wow your clients or reward your staff with a safe, but realistic experience of a life time.
This is one of only a few helicopter simulators in the world available for hire. You will see in front of you 3 x giant 42" screens which simulate the flight in action. The helicopter can fit in most venues.

This Helicopter simulator can be branded to suit your requirements.
Req space: 2m x 5m (3m without the tail)
We supply up to 4 F1 cars which are available for hire. Each car comes with electric moving pedal systems, a tripple screen viewing option with totals a minimum screen width of 3m and some of the most realistic driving controls available. Our cars even come with new (origional) Pirelli tyres, which few people can boast about.
The car can be used as a showcar, simulator, pit stop car or even for photo oportunities.

We can brand the external area of the car with your company logos and we can even brand inside the game, where you can see your car AND your track.
Why not try to 'beat the GITS' our trained selection of incredible race drivers, who wear white race suits ;)
We can supply marquees for the car to go outdoors, scoreboards for lap times, flags and theming, music and a host of extras for your event.
8 Lane Giant Scalextric Hire
This is the country's best Giant Scalextric track by a long shot. Once you have seen and raced on this figure of 8 track, you will desire no other!
The track is computer controlled, keeping records of lap times, race winners and championship points. The scalextric is suitable for party events, corporate team building, promotional events and any other event that you can think of!
We have two 8 lane scalextrics tracks available for hire. A classic BIG 8 track. This track is the largest transportable 8 lane track of its kind and a fine addition to any event, as long as you have the space.
The price includes an operator who will organise races and commentate throughout.

Size: 4.8m x 2.8m
Twin Dance Machine Hire
The aim of the twin dance simulator is to follow a sequence of moves, displayed on screen. Head to head twinkle toe action.
This 2 player fun game using metal dance mats with a safety rail, you must replicate the moves as shown on the 42" display. The game comes with a variety of songs to choose from and also a number of difficulty levels. Play head to head with your opponent to see who has the best coordination and moves on the dance floor. Each game lasts the length of the song chosen = 2 - 4 minutes
Scores are shown on the game but not recorded, please ask for a leader-board service if required.
This game is ideal for themed evenings, party nights and any other event that you feel that head to head dancing maybe applicable!!
This game has been used for MTV parties, corporate events and a host of weddings and private parties.
Laser Shooting and Laser Archery Hire
This Indoor Laser Shooting simulator is a stunning, high tech game, which replicates a large number of shooting activities.
The game is projected on to a large screen, which displays (with top quality graphics) the shooting scene, targets, clays and even animals. You can choose the most suitable game for your event and our trained marksman will guide you through the game.

These life like shooting simulators have a variety of modes; From clay pigeon shooting to wild west shooting gallery's and from duck hunting to partridge popping. As one of our most popular games, we must boast that this game is competitive, good looking and a great deal of fun.
Your shooting facilitator will guide your guests through a variety of shooting modes with hand guns and rifle's, we now have the choice of hiring this system with an Archery Bow, which is the only one in the UK.

The laser shooting game is housed in a 3m x 3m marquee with an 6' x 4' projected image at the rear of the marquee.

Power Requirements: 2 x 240v normal power supply.
Size: 3m x 3m x 2.4m (height)
Fun Casino Hire
We provide the Fun, Excitement and Glamour of a Las Vegas Casino but without the danger of losing real money!
This risk-free gambling is purely for fun & thrills, the stakes are a prize of your choice.
So let us help make your event a truly memorable occasion!
We will transform your venue into a sophisticated Las Vegas casino with our genuine high quality, fully equipped casino tables. Our highly trained professional and friendly croupiers are happy to advise and explain the rules of the games. They will ensure your guests feel comfortable and enjoy the experience whether they are experienced or first time players!

Price From £ 290.00 (1 table) £ 420.00 (2 tables) £ 660.00 (3 tables)
Penalty Shoot Simulator Hire
Goal Striker is the world's most advanced interactive penalty shootout experience. State of the art technology determines and records the velocity of the ball and the exact position at which it crosses the goal line. A virtual Goalkeeper has the ability to save each penalty, onscreen commentary and crowd noise are incorporated to add pressure and create a real shootout experience.
Each player has 3 or 5 penalty attempts, each shot is then electronically analysed and points awarded, the results immediately appear on the projected backdrop informing the player and the audience how fast and how accurate the shot was, but watch out for the projected goalkeeper whose movements are calculated and based on the reactions of professional goalkeepers in the European soccer leagues! The best 3 shots make up the player`s overall score and these results are printed on a certificate that shows exactly how they did and where they placed the ball.
Price based on up to 6 hours performance/service time.
Half Sized F1 Pods Hire - Link up to 6 of these
These offer a true to life experience and is INCREDIBLE fun.

These are the UK's only link play simulators of this standard.
No one else offers this opportunity for head to head RACING! The simulator uses the worlds most realistic simulation controls, with LED rev indicators and lap times on the actual wheel. Not only this but the feedback on the wheel will make you feel like you are driving an F1 car.

All the action is displayed on a jaw dropping 50" screen, one per simulator. Suitable for ages 10+
These cars/pods can be branded

Guide Price: £525.00 for 1 + £325.00 for each one thereafter

Full Sized F1 Simulator Hire
We have updated our full sized F1 simulator and bring to you the UK's most modern full sized F1 simulator. The car is the very latest design and will stop people in their tracks. Not only does it look incredible, but it also has electric moving pedals, the worlds most realistic driving controls and a tripple 50" plasma screen display which is the biggest in the country. We have up to 4 cars available.

Game Spec: 4.67m x 1.8m - The car requires completely flat access and a minimum door width of 1.5m for it to go indoors. The car can be utilised outdoors if there is an access issue. We would provide a 6m x 3m themed marquee to house the simulator in.

Pit Stop Experience This F1 pit stop car is a car which was specifically designed and built for this type of event. Teams will get to try there hand at a life like pit stop with trolley jacks, lolly pop and drills. All the action is timed on our digital timer and times logged on our themed scoreboard.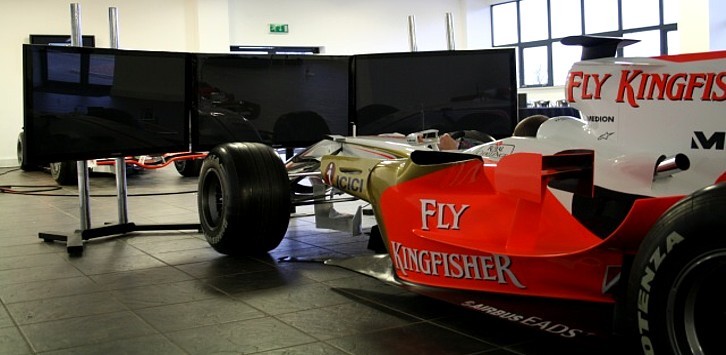 Supplying some of the countries most innovative and exciting games and simulators on offer for hire along with all the traditional, and GIANT games such as our giant football table to hire, that are well known event attractions. We deliver our giant games and simulators on time offering clients outstanding service and professionalism. The giant games are a great way for advertising, company promotions and marketing opportunities.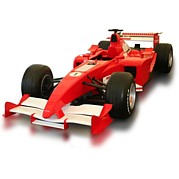 Price From POA
Area:
Nationwide - International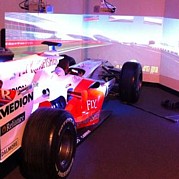 Price From £1245.00 +VAT
As a F1 simulator
Area:
Nationwide - International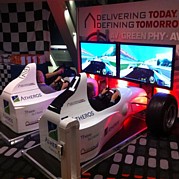 Price From £525.00 + vat
Area:
Nationwide - International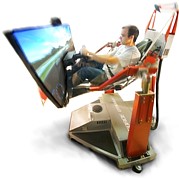 Full Motion Driving Simulator Hire
Here is the UK's only 301 motion driving simulator. Its one of the best and most realistic motion platforms in the country and it will blow your socks off. This is every boys dream to feel what it actually like in a rally car or fomula one car, well now you can find out.
The game runs off similar platforms to our other drving games, but with this, you feel every turn, every gear change, every bump and certainly every crash. Its so much fun, its hard to convey in writing.
If you are looking for an attraction for a stand or an event or just for people to have a great time, then this is one of the best games out there.

Duration: Price based on 4 hours
Number of People: 1
Req Space: 4m x 4m x 3m in height

£1200.00 + vat (depending which simulator you choose)


Price From £1200.00 + vat
Area:
Nationwide - International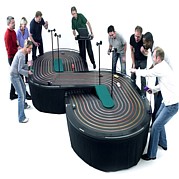 Price From £575.00 + vat
Area:
Nationwide - International

Bicycle Simulator Hire
England domnated the velodrome in the Olympics and Paralympics and also Bradley Wiggins won the Tour De France. To add to this brilliant year, we have now got some amazing cycling simulators available for hire.
Unlike other companies who have these, we have opted for a slightly better experience where we provide time trial bikes rather than normal road bike. This gives you a chance to tuck in to the aero bars and hit the pedals hard.
When you pedal the bike all the action is replicated on the giant 42" screen infront of you and you can choose where you ride. We have mountain stages for the daring or a trip to the Velodrome for those wanting to experience the thrills on the track.

We have 2 simulators available for hire.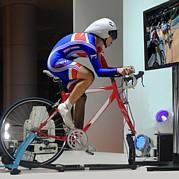 Price From £575.00 + vat
Area:
Nationwide - International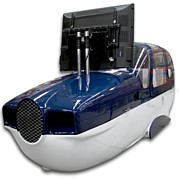 Price From £1125.00 +VAT
Area:
Nationwide - International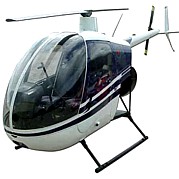 Price From £1225.00 +VAT
Area:
Nationwide - International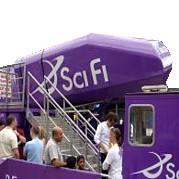 Astrojet Capsule Simulator
With fantastic point of sale potential and available for hire at short notice on a short or long term basis the Astrojet makes a great addition to indoor exhibitions or outdoor events. With a vast array of simulator experiences from Aircraft to Theme Parks or the very latest computer generated adventures & Roller Coasters and facilities for editing promotional films to suit your needs and budget it is incredibly flexible and can be totally personalised to your event.
The Astrojet simulators unique large capsule size allows comfortable seating for up to 19 passengers and the self contained units are able to operate both indoors and out and can run off their own generated power supply or 3 Phase mains supply with superb digital video incorporating dolby pro logic surround sound. The Astrojet boasts the largest screen of any mobile simulator in the UK by an incredible 20%. It also has a library of 15 experiences covering many themes for all types of audience and a handling capacity 220 per hour.

We stock the biggest library of films.
Price From £1400.00 +VAT
Area:
Nationwide - International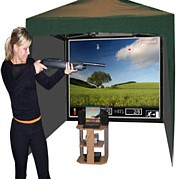 Price From £525.00 + vat
Area:
Nationwide - International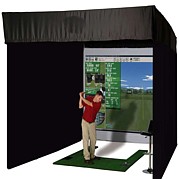 Golf Simulator
This is a full swing golf simulator.
These incredible machines allow you to hit a real ball against the screen, it then continues in the same trajectory in the game and records your shot perfectly. The golf game is housed in a 4m x 3m x 3m height marquee with an 8' x 6' projected image at the rear of the marquee.
We can run 'longest drive competitions' or 'closest to the pin' challenges.
On the simulator, the participant hits a lightweight ball at the giant screen. The action is then projected on to the screen so you get to see the full shot. It is not only acurate, but it also has great graphics and brilliant game play.

The simulator requires: 4.5m depth x 3m width x 3m height.
Set-up Time: 2 hours

We provide a selection of right and left handed clubs.
Price From £825.00 + vat
Area:
Nationwide - International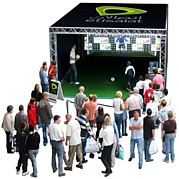 Price From £1400.00 + vat
Area:
Nationwide - International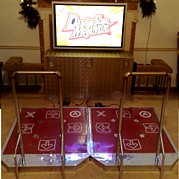 Price From £395.00 + vat
Area:
Nationwide - International

Batak Machine Hire
Batak is a brilliant challenge game, the aim is to extinguish the lights on the frame as fast as you can. You get a score for the number of lights you have hit within a 30 second or 60 second time frame. This reaction based game is a tried and tested success in the event market, ideal for party entertainment, exhibitions and events.
Jenson Button set an incredible score on Batak, see if you can beat it! The aim of the game is to extinguish the lights by hand as fast as you can. Its a little bit like a great looking, well designed giant whackamole.

It can be used by ages 8 - 80. The sleak sliver design looks awesome and the game play rivals its looks. This is a strange but brilliant game to have at your event.
Price From £525.00 + vat
Area:
Nationwide - International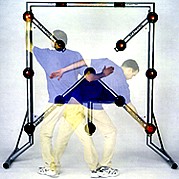 Batak Branding
We have 2 options for the branding of Batak, we can have a 8' x 8' foamex backdrop which stands behind the batak or we can have a branded foamex board which sits directly behind the buttons, integrated in the Batak.
Back Drop: from POA
Integrated in the front of frame: from POA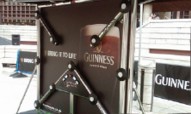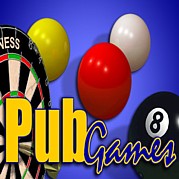 Pub and Garden Games Hire
You can make up your own selection from our comprehensive list of pub games. These are ideal for networking or as a cost effective Team Building Event. We can even add a good old pub quiz to your event.

* Pool Tables (Up to 2) - 6' High Quality Tables
* Air Hockey (Up to 2) - 5' Tables
* Darts (Up to 2) - Includes backboard and Ochy
* Giant Skittle Alley - Incredible quality - 10m x 2m
* Giant Shuffleboard - One of the oldest games in UK
* Giant Connect 4
* Bagatelle
* Quoits
* Giant Jenga
* Table Football (Up to 2)
* Bar Skittles

6 Games: £800.00 8 Games: £950.00 10 Games: £1050.00 + vat
Price From £800.00 + vat
Area:
Nationwide - International