Solo Dancer Manisha
Bollywood, Bhangra and Giddha Dancer.

Manisha is far beyond talented! She links Bollywood to you!

Whether you like dancing, performing or watching a live event Manisha will rise to the occasion.

Manisha specialises in Bollywood, Bhangra and Giddha.

Book Manisha for you special occasion including award ceremonies, weddings, Melas, private functions and much much more!

Mixed Midland Bollywood Dancers
These mixed Bollywood dancers are a energetic Bollywood dance group comprised of non Asian performers and choreographers.
Their unique style is the perfect mix of high energy performances to both modern Bollywood songs, and classical performances to the all time favourites.

Within their booking package they offer up to 4 sets of dance performance, each as different from the other as possible, as well as a selection of 5 costume changes to choose from and a great variety in their song list.

As the first Bollywood dance troupe comprised of all non-Asian Bollywood dancers and choreographers, this Bollywood dance troupe has brought a unique flavour to the Bollywood world whilst keeping true to its tradition.
Price From £ 350.00
Area Covered
London - South East
The excitement and colour of our Proffesional Bollywood, Bhangra and Giddha dancers available for hire. Book our dancers for hire anywhere in the UK and abroad.

Our Dancers perform, Modern, Traditional, Bhangra, Fusion, Classical, Semi-Classical, Kathak and shows include 'East meets West' Performances are either 3 x 10, 2 x 15 or 1 x 30 minute sets.

You can book a Solo Bollywood Dancer to a full Bollywood or Bhangra Dance Troupe and if your guest would like to have a go then our dancers also offer Workshop (audience participation)


Area Covered
London - Internationally

Price from
£ 300.00 per dancer
High Calibre Bollywood Dance Group
We offer two performances.
We have three main medleys of songs: Traditional Bollywood, Modern Bollywood and a Wedding Bollywood Medley.
Our medley's are usually between 7 -10 minutes depening on allocation of time! Having said that most of our performances are customised in accordance with the client's preferences and we are very flexible.

We are the only Bollywood Dance Group to have made it through to the Live Semi Finals of a well known TV talent contest and also the only Company to provide equal number of boys and girls to portray that true bollywood essence!
bollywood dancer for hire, asian dancers for hire, indian wedding entertainment, indian wedding dancers, asian wedding dancers for hire, kathak dancer, kathak dancer hire, classical dancer hire, bollywood classical dancer, bollywood dancer hire, london bollywood dancer, solo bollywood dancer hire, bollywood dance groups, sangeet parties, melas, mehndi events, jaago parties, lhori parties, indian wedding entertainment, provided by Steppin Out
Male Bhangra Dancers
This is a Yorkshire based bhangra team. It consists of young, energetic and enthusiastic members which promote the Panjabi culture through bhangra dancing. Everybody within this group has the passion and dedication which has made this team possible.

Male Bhangra Dancer Combinations

6 Artists - 4 Dancers, 1 singer and 1 Dhol Players
Price from £750
8 Artists - 6 Dancers, 1 singer and 1 Dhol Players
Price from £900

We are willing to travel nationally and worldwide.
Area Covered
UK - Internationally
Classical and Bollywood Dancers
Classical, Semi-Classical, Kathak, Traditional, Folk, Bollywood or a mixture of Dances!
This Bollywood Dancer is a British born Indian dance artist, teacher and Yogi with intelligence and dignity.

Solo Bollywood Dancer and Group options Group of 6
Price From £380.00 - Solo Dancer
Price From £600.00 - Solo & 2 Female Dancers
Price From £900.00 - Solo, 4 Female & 1 Male Dancer/s

Price without this Solo Dancer From
2 Bollywood Dancers - £450.00 - 1 x 30 mins or 2 x 15 mins
4 Bollywood Dancers - £595.00 - 1 x 30 mins or 2 x 15 mins
6 Bollywood Dancers - £800.00 - 1 x 30 mins or 2 x 15 mins
A-List London Bollywood Dance Group
The Troupe perform to fully choreographed upbeat latest Bollywood tracks with professional male and female dancers. The routines can be performed in different sets of 10 or 15 mins each set with a change of costumes in between.
At the end of the session the performers encourage audience interaction by simply facilitating and teaching some simple moves to guests.
We try to incorporate different styles of dance moves for everyone to enjoy from expressive to modern with Bhangra, Fusion, Contemporary, Classical, Bollywood being the foundation.

The troupe is already known for being the most professional and the most glamorous providing excellent service to its client, here and abroad. The only Troupe to have been shown on Strictly Come Dancing and are constantly asked to appear on Britain's got talent.

Performances 1 x 30 mins or 2 x 15 mins
Area Covered
London - Internationally

Price From
2 Dancers - £400.00
Area Covered
London - Internationally

Area Covered
Shropshire - Internationally

Price from
3 dancers £500.00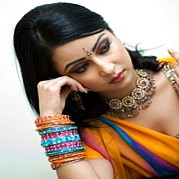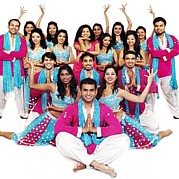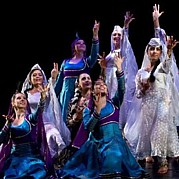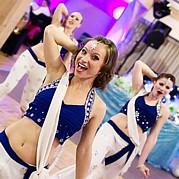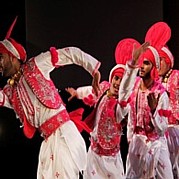 Area Covered
London - Internationally

Price From
2 Dancers - £400.00
Mixed London Bollywood Dance Group (1)
These dancers are a professional all female dance company, consisting of Bollywood dancers from diverse backgrounds specialising in Classical Indian, Bhangra, Kathak and Bollywood. they also have training in western dance styles such as Street, Contemporary, Hip Hop and Ballet which we have used to create a unique and exciting fusion of Bollywood dance.
They cater for all types of events - from intimate sangeet nights, large weddings to corporate events, TV and film work.
All of these Bollywood dancers are professionally trained and perform to the highest standard. They have many years of performance experience and have a passion for Bollywood.

They perform a range of dance medleys from traditional to contemporary, using popular Bollywood hits. Their Medleys usually last between 8 - 10mins. Their range of costumes are stunning and certain to wow your guests!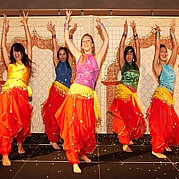 Non Asian Bollywood Dance Group
The colour, the atmosphere and the beauty that is bollywood is presented for your pleasure and enjoyment by the this vibrant and glamorous dance group.
They have proven to be one of the most successful Bollywood groups in its field with performances at Weddings to Royal Command performances.
Their shows are unique and original, choreographed to an exceptionally high standard from the UKs most talented choreographers, adding to that a team of costume designers and top music editiors who work hand in hand to produce totally amazing results.
They pride themselves in being one of the UKs most professional and high energy non asian bollywood groups only using the highest calibre of dancers, which enables them to maintain a very high standard through every performance and have developed an excellent reputation shown through our achievements and client feedback.
Bringing fully choreographed spell binding routines and performances that will enhance any Corporate event, Private party, Wedding , Mhendi, Sanjeet or Mela in fact any occasion that you want to make memorable and leave any audience wanting more."
They have a vast repertoire of songs that they use in their shows including classical, bhangra, punjabi, hindi, western fusion, bollywood and current chart hits. On average they are required to perform 3X10 min sets and can also do audience participation on request.
Area Covered
Midlands - Internationally

Price From
£175.00 per dancer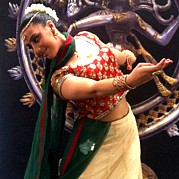 Bollywood Kathak, Classical Dancer
'Her magestic stage presence, precise technical skills and authentic aura is a treat to the eyes."
"Only a handful of people in the country are trained in Kathak, but only a few of those sensibly merge it with Bollywood dance to create sheer magic".
Our classical solo dancer performs to classic, timeless songs with a firery energy, adhering to the techniques of Indian classical dance.
She is available to performs for all kinds of events, for private or corporate entertainment. Our current client base includes HSBC, Vodafone, Ford and many other reputable companies who choose only the classiest entertainment for their high profile events.

This is not just entertainment, this is art.
A form of art which cannot be described, but only experienced.
Price From £ 450.00
Area Covered
London - South East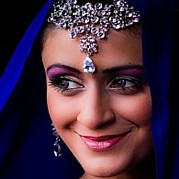 Solo Bollywood Dancing Diva
Bollywood Dancing Diva - Voted UK's best solo Bollywood Dancer
A professional Singer, Dancer, Actress, Catwalk & Dance Choreographer specialising in Modern Indian Dance, Bollywood, Bhangra and Belly dancing.
This high profile performer, has performed for over 10 years within the Asian media and Bollywood industry.
She's worked with Sohail Khan, Urmila, Rafaqat Ali Khan and many other top celebrities.
Having performed at the world famous Burj Al Arab & Atlantis Dubai, many European tours and in Marrakech.

Testimonial - Re: Bollywood Dancing Diva
I would like to take this opportunity to thank you and your team for making our christmas party a memorable one.
Everyone was a pleasure to work with and made the whole experience enjoyable.
Kind Regards Lisa Lazarus & Mr K. Somaia
London - India - Dubai
Price From £ 450.00
Area Covered
London - South East