A night of laughter and fun is guaranteed...
Drag Queen Krystal Candy Floss
Whatever your special occasion, let Krystal Candyfloss be your host. Music from the 1950's to present. Providinf state of the art PA sound system, lights, and karaoke system with 11,000 songs to choose from. Weddings, Hen Nights, Civil Partnership, Birthdays, Anniversaries, Engagements, and Corporate Events and any other occasions that you may require.
All shows include audience participation songs. Shows can be done in 2x40 minute spots or a 1 hour show. I can tailor the show to suit your requirements and so no bad language and no rude jokes if thats what you require.
Example of songs in shows are - Abba medley, It's raining men, I am the music man, Boom bang a bang, Timewarp, Oom pah pah (from Oliver), Que sera sera, Puppet on a string, Y viva Espana
You're the one that i want, Yes sir i can boogie, White Wedding, Don't dilly dally on the way, I only wanna be with you, I will survive, plus many other 50's 60's 70's 80's and 90's songs.
Drag Artiste Ref: DC
If you are looking for a glamorous, professional drag queen/female impersonator with class, style and saucy elegance then I am your perfect entertainer for the evening.
I'm available for all types of shows; Cabaret shows, Ladies/Hen nights, special occassions like birthday parties or celebrations such as Weddings and Civil Partnerships.
Included in every show is Live vocals, sing-a-longs, blue humour, jokes galore, and lots of audience participation. Each show can be tailor made for individual requirements.

I travel Nationwide. Sound and lighting equipment can be supplied, if required. (All equipment PAT tested and has Full Public Liability Insurance.)
Drag Queen Ref: TW
This Drag Quuen started her career training at the City Lit College in London's theatre district Drury Lane.
After a two year stint at Warner's Leisure, she was beckoned by the bright light's of London's West End and had great success at 'The Piano Bar' in Brewer Street, Soho hosting and singing live with a Pianist 'Songs from the shows'
She is a world class professional Drag Artiste who has performed a wide range of first class shows for many different audiences.
Her live shows combine her sharp comedy and extraordinary singing talents with the best range of costumes you have ever seen!
She is a must for Adult Cabaret evenings including corporate events, civil partnerships and private parties.
Drag Comedian Ref: DS
This is one of the most experienced Drag Comedians on the comedy cabaret circuit today. From London to Ibiza, Germany to Cyprus, she is truly is an "International Drag Sensation".
His / her act is completely live with jokes, outrageous humour, patter and song, more suitable for an adult crowd, she really works the audience with fabulous patter and new twists on some of the old camp for a show with mayhem and laughs.
Her work as a Drag Artiste allows her to perform at anything from Corporate Events in Top Hotels to Gay pubs and Clubs, Mixed Cabaret and of course Ladies Hen Nights.
Her costumes can be outrageous or glamorous.

He also has plays at Maspalomos pride in Gran Canaria and main stage at Brighton Pride every year.
Whatever your event, this Drag Comedian is an all round Stand up Drag Queen and ideal for your venue! She even has a complete sound system if required

New Artist! Drag Queen Ref: AD
I am an established drag queen based in the UK, with more than 12 years experience in cabaret, gay shows and hen nights, working all over the world as a live vocalist and comedy act.My original solo show. Working worldwide for over 10 years. Combining live songs, with outrageous comedy patter and audience participation. Each show is tailor made to suit the audience.

Available for all types of venues with a full self contained PA where required.
Drag Queen Ref: TP
The show is a witty combination of music, lyric changes to songs
and stand up comedy which is used for Cabaret nights, ladies nights
and hen parties, comedy clubs and corporate events to name a few!
This is a drag act which is like no other around its young ,funky
and such a breathe of fresh air! Of course we would say that but
it is time for something very new and original without a big bouffant hair-do and not a sequin in sight we know the world is ready for this Drag Queen!
The show times vary according to the event, from 20 minutes to 1.30 mins depending upon your needs?
The one thing that we would say about this Drag Queen Show" is that it has a very adult theme and even though the show has been done at private events where children are present it is really suitable only for an adult audience!
This is a professional production from start to finish.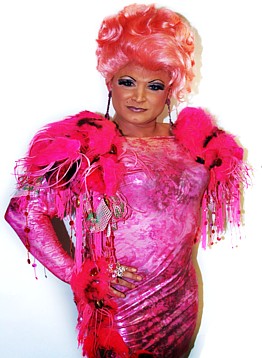 Price From £300.00
Area: London - Nationwide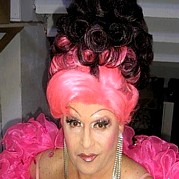 Price From £300.00
Area: London - Nationwide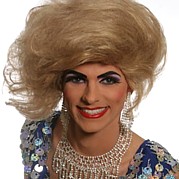 Price From £300.00
Area: London - Nationwide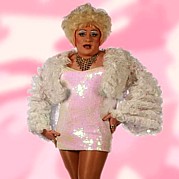 Price From £300.00
Area: London - Nationwide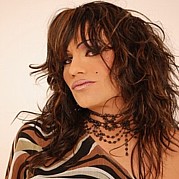 Price From £300.00
Area: S East - Nationwide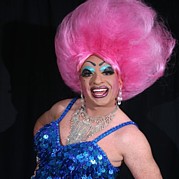 Price From £300.00
Area: S East - Nationwide