male and female dancers for hire, russian dancers for hire, cossack dancers hire, provided by Steppin Out

Over the years these Cossack dancers available for hire have excited and stunned audiences, they have proven themselves to be one of the top cabaret acts providing a unique and totally unforgettable experience. The high impact dancing sensation can be totally flexible incorporating song if desired by the client.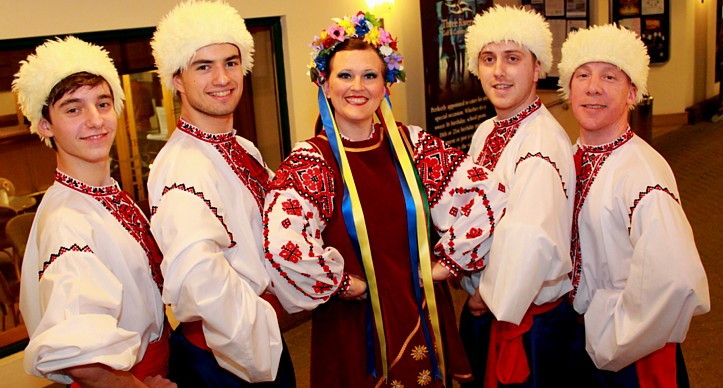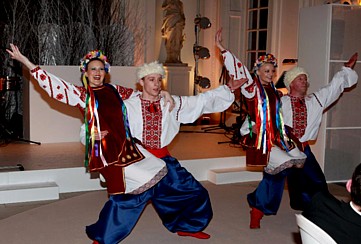 The professional approach of these Cossacks has made them a favourite on the corporate circuit, providing shows for Smirnoff, Mars and Water Aid. They are able to tailor their act to create an intimate experience for a small party or wow and entertain thousands.

SPECIAL OCCASSIONS
These Cossack dancers are avialable for hire at Weddings, Civil partnerships, Birthday's, Corporate Functions, Private Parties, TV and Promotional Events. Audience participation is a must and one of the highlights is to see guests participate in Cossack dancing!

Watch your familly, friends or work colleagues have a go!
This is particularly a favourite time for picture taking.
The Cossacks striking entertainment will give you unforgetable memories for years to come. Surprise entertainment, a unique gift to a loved one.

CHRISTMAS
How would you like an enchanting, spectacular Cossack extravaganza at your Christmas Party? The vodka and champagne could flow whilst being entertained or you could be captivated by the Cossacks in-between dinner courses.
Imagine how impressed colleagues or business associates would feel after experiencing your unique hospitality.
All experiences are individual and tailored to our clients needs.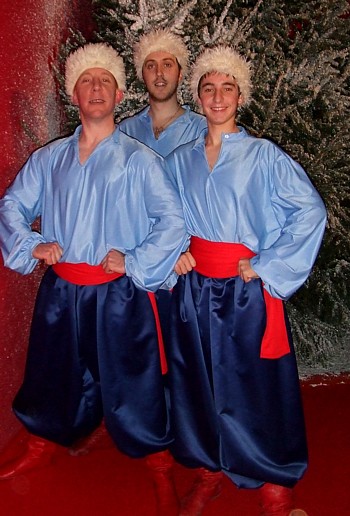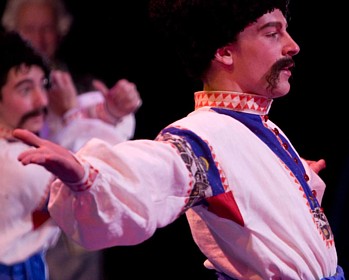 THEATRE
These Cossacks have delighted theatre audiences by making guest appearances in productions such as The Tsarina's Slippers, Royal Opera House, London(December 2009).

Why not have professionals appear in your show? Invite the Cossacks along and see what the critics have to say..

Big Brotherís Bit On The Side
These Cossacks were recently seen on Big Brotherís Bit On The Side every Saturday night. The dancers were seen at the end of the programme, creating bespoke choreography each week to a music track that has been chosen by the evicted celebrity.

Add a bit of Russian flavour to your special occasion!

Price From
3 dancers is £600.00 + travel expenses @ 40p/mile

4 dancers £720.00 + travel
£130.00 per extra dancer + travel
up to 8 male + 4 female dancers

Sets are up to 30 minutes long if required

Dear Terry

I just wanted to say a big THANK YOU for making ĎA Russian Ballí at the Lansdowne Club such a success. We have had nothing but fantastic feedback on the event and it would not have been possible without the amazing support you gave us on this event.

I really enjoyed working with you and I look forward to the next event. Have a great day!


Kind regards
Philippa Berridge
Club Events Coordinator