Check out our Las Vegas : Moulin Rouge : 007 : Hollywood Packages at www.thememyparty.co.uk
Champagne Delight One pin up starlet plus a 2m high champagne glass can only amount to a whole lot of pleasure!
Let her greet you guests at the reception, give them a wonderful surprise as soon as they arrive or feature her as entertainment for guests at a dinner or dance. Whether you want her as the main focus or simply something to be admired in the background, she is destined to make your event sparkle, feel free to request water, glitter or confetti to add an extra wow factor!

Price From £450.00

PACKAGES

PACKAGE 1: Greet Your Guests
A 25 min free styled performance for a Meet and Greet at your event reception.
She can pour your guests drinks or top up from sitting in the glass if a waiter is supplied on hand to pass up the bottles of bubbly One fabulous costume to wow your guests or if you request the glass to be filled with water, a vintage swimwear piece can be arranged. Water / Glitter / Confetti upon request (no extra charge) Price From £880.00 (+Travel @ 35p per mile)

PACKAGE 2: Performance
A 15 min choreographed performance wherein the glass may be placed on a dance floor, stage or podium, includes costume changes and feather fans,
Burlesque Striptease, playlist provided on CD / ipod, Glitter / confetti upon request (no extra charge) Price From £1080.00 (+Travel @ 35p per mile)

BESPOKE:
If your event requires something specific whether it be a vocal rendition from the glass of 'Happy Birthday' to a special costume request, she will endeavour to meet your requirements. Nothing is too much trouble!
Price From £POA

Looking for entertainment that's a little different from the rest?
Want to add a little shimmer and sparkle to your evening?

When you book one of our critically acclaimed Burlesque performers you certainly won't be disappointed.......

Adding fun and frivol tease to any evening, our Beauty's of Burlesque each have their own unique and individual style. With fully choreographed spell binding routines and performances they are certain to leave any audience wanting more.

From the class and elegance of the traditional fan dance and seductive strip tease to the high energy, tongue in cheek routines of the Vaudeville era our sumptuous sirens have something to tickle everyone's fancy! Giant feather fans, champagne filed glasses, confetti filled balloons and larger than life props all add to the authenticity of these brilliant Burlesque performances.

Our international performers have captivated audiences worldwide, including performances in Paris, New York, Las Vegas, Hong Kong and London. From the eccentric to the erotic we have only the best Burlesque performers based throughout the UK for your convenience.

Speciality Stilt Walkers and Circus acts are also available.


Price From POA
This Burlesque performer will captivate her audience with her unique and exquisite style incorporating the elegant, seductive, ethereal, beautiful, artistic and macabre within her performances.
A sultry vamp that will be sure to lead you to escape into her own world of true vintage glamour...
A slender and vampish performer, her striking visual aesthetic brings to the stage exquisite and polished acts that are sensual and graceful. Evoking a sultry and smoky atmosphere within her performances and set within classic themes, she captivates her audience giving a true sense of escapism while evoking the indulgent glamour of past hedonistic eras. Adorned in soft tones of textured velvets,silks and lace and billowing and floaty fabrics embellished with ornate beadwork that give an antique and vintage style.
She has graced International stages in Italy, Belguim and Ireland as well as across the UK and even the small islands of Jersey and Guernsey!
She is also a regular performer for 'The Tassel Club' at the decadent 'BathHouse' in central London.
Past clients include Universal Films, Renault Clio, Specsavers, VIP launch of premier nightclub 'The Wright Venue' in Ireland, Bike stuntman Eddie Kid aka 'The Black Knight', London on film festival and London Fashion Week 2009.

In addition to this, she is also the artistic director and resident performer of Burlesque and Cabaret night 'Coco Boudoir' in Bath, Somerset.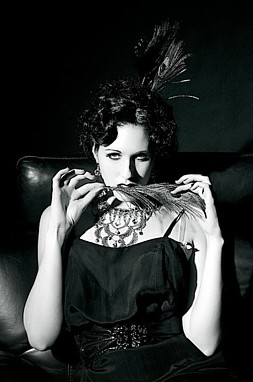 Here is a list of my current acts which include classic striptease, fan dancing and fire.

Cry me a River
A signature and visually stunning act. Elegantly undressing from a full length 1930's style gown with full train and climaxing in a breathtaking
fan dance with huge white fans.

The Powder Box
Attired in a black lace over white satin corset, adorned with swarovski crystals and a full net skirt, she brings back classic retro glamour in an elegant striptease and playfully powders herself with large powder puffs

Champagne and Moonglow
An ethereal and seductive routine inspired by 1930's star Sally Rand
and silver screen glamour.
She poses and plays with a 4ft diaphanous bubble before disrobing from an exquisite bias cut silver silk evening dress and adorning herself in champagne bubbles before a glittering climax!

The Midnight Hour
With martini and fox fur, she smoulders as a tempting 1920's showgirl.
Complete with feather head dress and silky ivory skin hidden beneath a black satin brocade gown, will she expose herself through a tantilising fan dance....
sensual seductivness of a classic femme fatale

Amethyst Nymph
Inspired by the famous works of Art Nouveau artist Alphonse Mucha.
Dressed in a 1920's style evening gown, swirling chiffon drapes and a spellbinding fan dance,complete with fluttering petals. she brings Mucha's work to life.

Le Vamp Nocturne (Fire Act)
A scintillating and raunchy striptease and fire act
inspired by the original parisian vamps of the 1920's.
(Fire skills include body burning and fire eating)

Performances last between 4 mins to 5.30 minutes
depending on act.

Price From POA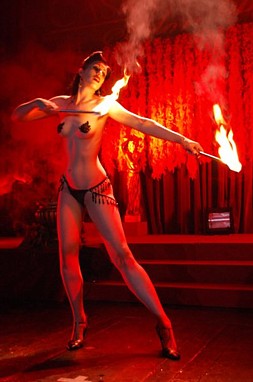 Burlesque performers for hire, Burlesque dancers for hire, burlesque cabaret dancers hire, burlesque performer with champagne glass hire
provided by Steppin Out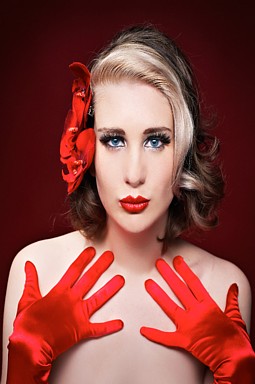 I have been performing burlesque in various venues in England, ranging in location from Newcastle to London, for a number of years now, and have built up a good reputation as a talented and reliable performer. I am based in the East Midlands and most of my performances are centred here, although I am more than willing to travel for work. I specialisie in character based striptease and classic risque dance with props such as feather fans, and my performance persona is that of a 'femme fatale'.

Playlist/Repertoire:
- Fairytale Fan Dance (classic ostrich feather fan dance)
- The Big Sleaze (classic striptease with Film Noir theme)
- Purple Rose (classic striptease and chair routine)
- The Vampire's Metamorphosis (vampire themed classic striptease with a slightly gory reveal)
- Restricted (fetish themed contemporary striptease performed entirely whilst handcuffed)
- Seasonal routines including an upbeat fan dance with artificial holly fans
I am constantly working on new acts so this list will be often updated.
Areas Covered Nationwide
Price From £280.00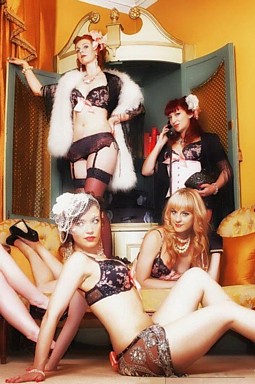 Classic Burlesque dancers showcasing unique and spectacular choreography with a fun contemporary twist ~ Mixing the Old with the New ~
Inside our Selection Box of Burlesque Showgirls you will find a heady mix of Burlesque Dancing, Classic Songs, Circus & Striptease
They're available across the UK & Europe for Burlesque Shows, Cabaret Events, Corporate Functions, Festivals & Parties
They will tailor our performances to your needs from one girl performing a solo act to a full nights entertainment featuring all six highly talented and individual showgirls
"They combine their amazing burlesque costumes with the most spectacular routines..."
Areas Covered
London - Nationwide and Internationally

Price From £200.00 Per Performer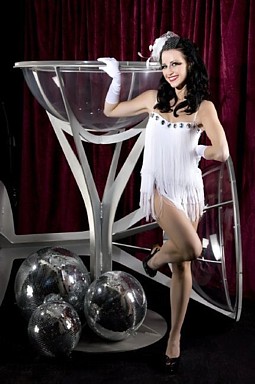 Circus and Funfair Entertainment for hire
For all your hospitality needs from Clowns, Living Statues, Magicians, Showgirls, Face Painters, Strolling Tables, Stilt Walkers, Fire & Glow Performers, Firework Displays, Funfair Rides, Funfair Side Stalls and much more!

Living Statues, Strolling Tables & Stilt Walkers
Fire & Glow Performers
Firework Displays
Funfair Rides
Funfair Stalls