To bring great music and great entertainment to any private or corporate event...

We provide First Class Brass in any of the following styles | Baroque & Classical | Swing Era | Film & Show Music | Easy Listening | Dixieland | Jazz | Popular Chart songs | Ragtime.

They can also arrange background music for any occasion Dinner Functions | Church Services | Garden Parties | Product Launches | Wedding Ceremonies | Corporate Events | Fanfare Trumpeters
Strolling musicians | Reception music | Christmas Functions etc.

Saxophone Quartet
Saxophone Quartet have studied collectively at Guildhall School of Music and Drama, and the Royal Academy of music.

They arrange our own music for any occasion and can write up to 40 minutes of music on the clients request (within reason) for all bookings made 8 months in advance.

This vibrant all girl saxophone quartet, expand into a six piece with electric bass and kit. Providing both music you can dance and listen too. With repertoire that spans from the 1930's swing era with Big Band classics by the likes of Glen Miller, through to jazz, funk and soul to get the crowd dancing.

Brass Band for hire
This is one of the leading brass quintets in the South East of England. They perform a wide ranging repertoire of music from the Baroque music of Bach and Handel to the more popular music of Gershwin, the Beatles and Queen with all styles in between The quintet comprises five professional musicians from the South East.

This band is available for a wide variety of events from more formal recitals, concerts, music festivals and wedding ceremonies to background music for business luncheons, dinners (including military mess dinners, mess dress can be worn for these functions), garden parties, receptions and product launches.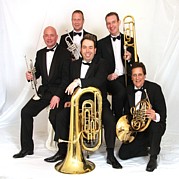 Price From £ 775.00 (5 piece)
Area: SE - Nationwide

Price From
£ 1950.00 (10 piece)
Area: SE - Nationwide
Marching Brass Band for hire
Formed in 2006 this Marching Brass Band have been working in the entertainments industry
for over 16 years & whose owners have served and worked in Military Music for 20 years now.
Consisting of ex-regular (and current serving musicians from the military) the band travels throughout the United Kingdom (and are also able to travel abroad) performing fo
r a variety of events from County Shows, Arena Events, Promotional Events, Street Parades, Special Events (days such as St. Georges Day) Pass Out Parades, Town Parades to the traditional Cabaret Marching Display (after dinner marching display indoors or out).

10, 16 and 20 Piece Bands available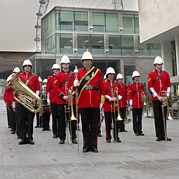 Price From £ 750.00 (5 piece)
Area: SE - Nationwide
Bavarian Style "Oompah" Band for hire
The band travels nationally and internationally for Octoberfest events and parties, product launches and beer festivals. Dressed as a traditional Bavarian band, in Leiderhosen with waistcoats and of course the Tyrolean hats, the band can add that classic Bavarian soundtrack to any event performing the traditional polkas, marches and waltz's from Germany and Austria. The Band can play as either a static band or as a strolling band being able to entertain your guests or clients in areas of the venue.

Music for your Octoberfest themed event where audience participation is a must!

So if you're looking for a traditional styled Bavarian "Oompah" band or live music for your themed events then look no further!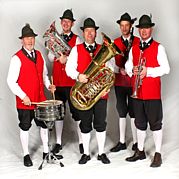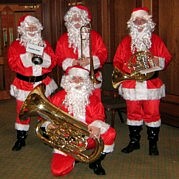 Christmas Brass Band
Let Christmas Brass Band Enhance Your Festive Event

Our musicians can appear in Brass Band Style Uniforms - Full Military Uniforms - or even Santa Claus Outfits!

Background music for Christmas Dinner Functions, Traditional Carols around the Christmas tree, Christmas Music for Outdoor Events - such as Shopping Centres - Lighting Ceremonies.

Static or Strolling musicians & non-Christmas music is also available.
Price From £750.00
Area: S.E. - Nationwide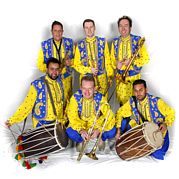 Asian Styled Brass and Dhol Band for hire
A Genuine Asian styled Brass and Dhol band for youe event, specialising in playing your favourite Bollywood and Bhangra themes of now and yesteryear.
The Traditional music of Indian film and Punjabi Bhangra combined with the distinctive brass sound creates a sound which is individual and unexpected.
They use, for the most part, a four-piece plus percussion formation consisting of trumpet, French horn, trombones, tuba, and percussion.
A touch of desi dhol and instrumentation in the repertoire along with the ensemble's flexibility in instrumentation and scoring ensure that there is something for everyone at their performances.
Price From £ 800.00 (4 piece)
Area: SE/BHX - Nationwide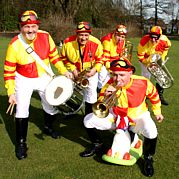 Sports Brass Band for hire
This Sports Band can provide the musical entertainment to enhance the complete experience you want for your sporting event.

Dressed in replica team strips promoting your club or sport their band will play appropriate songs or pieces of music associated with your sporting event and, if applicable, directly to specific clubs.
For match days, tournaments or meetings they can provide pre-match entertainment for receptions or strolling in and around the stadium and on the pitch if required. They can lead out the teams to club anthems and play national anthems or songs for international events. They can provide incidental musical entertainment at appropriate points during the event, such as half-time intervals and finally at the end for presentations and celebrations!

Price From £ 775.00 (5 piece)
Area: SE - Nationwide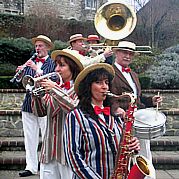 Price From £ 750.00 (4 piece)
Area: SE - Nationwide
Dixieland Brass Band for hire
A Dixie / Jazz Group for all Occasions

Are you organising a......
corporate entertainment?
public occasion?
family celebration?
public relations/promotional event?
wedding?

Thay can provide the live music to make your event go with a swing
Dixieland Players can entertain all for indoor and outdoor events, static or strolling in a light-hearted entertaining style.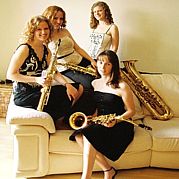 Price From £ 750.00 (4 piece)
Area: SE - Nationwide