Bavarian Bands for events - Hire a Bavarian Band also referred to as an Oompah band perfect for your Oktoberfest themed party, German entertainment at it's very best. Book our German Bands and Oktoberfest bands for your German themed party, plenty of hand clapping, swaying, and thigh slapping involved!

To bring not just great music, but fun, laughter and great entertainment to any private or corporate event...

This Bavarian Oompah Band really can bring fun to your event. Suitable for functions, parties, wedding receptions, & corporate events, the band will cater and entertain your guests with their wit and humour, coupled with great Bavarian music. The band are so experienced at these events, that they judge each function individually, and will tailor the show to suit your guests.

The 1st set is traditional Bavarian music, with a lot of audience participation! Plenty of hand clapping, swaying, and thigh slapping involved!

The 2nd set is our sing-a-long session which includes numbers such as My Old Man, Roll Out The Barrel, Coming Round The Mountain, The Happy Wanderer, Pack up Your Troubles, and songs of that ilk. This set ALWAYS seems to go down well.

The 3rd set is the "party set." This includes a lot of audience participation numbers, where we get everyone up and joining in, in songs such as Y Viva Espana, Delilah, The Conga, YMCA, Hey Baby, Tragedy, Shout, The Can Can, Mambo No 5, Macarena, Cotton Eye Joe, and New York New York. This set we use to bring the evening to a rousing finale.

5-piece band £780.00.
clarinet/front man, trumpet, trombone, bass and percussion.

6-piece band £900.00. (optimum line-up).
as above plus an extra person who will be out amongst the audience going from table to table getting everyone clapping & joining in.

Area: Nationwide - Internationally
London Based Bavarian Band
This band offers 5-7 piece and have been an established German oompah band (Bavarian Band) since 1978. The band uses only first class professional musicians and is based on a traditional Bavarian band consisting of 2 clarinets, trumpet, trombone and tuba.
This Bavarian band are one of the countries most successful Bavarian bands (German oompah bands) and have played all over the United Kingdom, their main strength being "German Bier Keller" or beer cellar nights.
They have a vast repertoire of both traditional and popular German music, as well as English sing-along tunes. There are vocals in both English and German and they play in traditional German Lederhosen Costume. Should it be required the band can be augmented to a seven piece by adding accordion and drums to the five piece to produce a stronger sound while still keeping the authentic Bavarian feel.

They have performed in Germany, Italy, The Channel Islands, Ireland and nationwide in England. They have performed at many venues around the world including Harrods Store, Universities, The Royal College of Music, The Royal Netherlands Embassy, Battersea Bier Fest and the National Caravan Exhibition. They have appeared on numerous TV shows including Never Mind The Buzzcocks and were in the films "Photographing Fairies" and "Weather in the Streets". They have also recorded on the Olive Branch Label.
Birmingham Based Bavarian Band
This Bavarian band are all about fun!!

With over twenty years of experience, this is the most sought-after Bavarian act in the UK. They provide a fast-moving, audience participation cabaret-style show, and have appeared on the same bill as many household names including The Barron Knights, Des O'Connor, Frank Carson, Showaddywaddy, Mike Reid and Jim Bowen.

This is a fully self-contained act with top-class sound equipment and stage lighting. For an unforgettable night of classic Bavarian entertainment, look no further than this Birmingham based Bavarian band.



Price From £750.00
Area:
London - International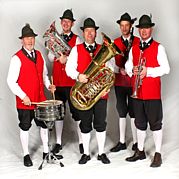 S.E. Bavarian Style "Oompah" Band for hire
The band travels nationally and internationally for Octoberfest events and parties, product launches and beer festivals. Dressed as a traditional Bavarian band, in Leiderhosen with waistcoats and of course the Tyrolean hats, the band can add that classic Bavarian soundtrack to any event performing the traditional polkas, marches and waltz's from Germany and Austria. The Band can play as either a static band or as a strolling band being able to entertain your guests or clients in areas of the venue.

Music for your Octoberfest themed event where audience participation is a must!

So if you're looking for a traditional styled Bavarian "Oompah" band or live music for your themed events then look no further!


Price From £ 750.00 (5 piece)
Area: SE - Nationwide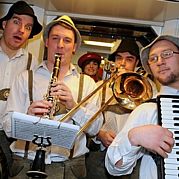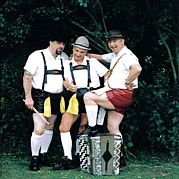 Price From £ 600.00 (3 piece)
Area: BHX - Nationwide

Bavarian "OOMPAH" Showband for hire - Portsmouth based