We have a wide range of solo singing artists available for hire for your private function, wedding or corporate events. Most artists are willing to travel outside their area.
singers, duos for hire, musicianss for hire, wedding singers, live bands - through Steppin Out
A blistering duo - five-piece function band, this is the perfect choice for weddings, parties, corporate events - in fact wherever a top-quality party band is needed, this band is guaranteed to set your event on fire!

Consisting of female lead vocal, male vocal and three-part harmonies, keyboards, drums, bass and guitar, they are fully
self-contained with the highest quality PA system, lights, smoke/haze and disco.

This band can play either two or three sets, and will switch to gentle background music, a pumping disco, or even a top Ibiza
DJ / compere during breaks (by arrangement).

The band is very experienced with diverse audiences - such as weddings, formal balls, corporate events - and all in all are a superb choice for an unforgettable evening.

As previous clients agree... you just can't have a party without this band!

A blistering five-piece line up fronted by the powerful vocals of lead singer Wendy, this high-energy band will guarantee a chain reaction of non-stop dancing with hit after hit from the rock'n'roll sixties, funky disco seventies, back to school eighties, classic ninties through to modern day.

All professional and internationally experienced musicians, band members have appeared at many prestigious venues, from Ronnie Scott's, The Royal Albert Hall, Blenheim Palace, The Savoy and the Leander Club, to touring with Hot Chocolate, Jamie Cullum, Lisa Stansfield and even playing privately for the Australian and Indian cricket teams in Dubai.

Price From £ 650.00 (Duo)
£1100.00 (5-piece)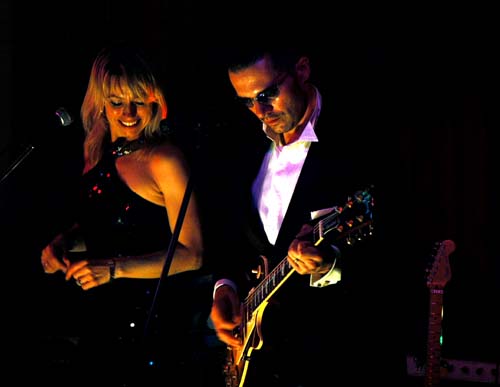 Mustang Sally - The Commitments
Great Balls Of Fire - Jerry Lee Lewis
You To Me Are Everything - Real Thing
Is this the Way to Amarillo - Tony Christie
Waterloo - Abba
Living On A Prayer - Bon Jovi
Sweet Home Chicago - Blues Brothers
Moondance - Van Morrison
Crazy Little Thing Called Love - Queen
My First, Last, My Everything - Barry White
Saw Her Standing There - Beatles
Don't Stop Me Now - Queen
Sex Bomb - Tom Jones
It's Raining Men - Weather Girls
I'm Outta Love - Anastacia
I Feel Good - James Brown
Delilah - Tom Jones
Boogie Nights - Heatwave
Don't Stop Movin' - S Club 7
Long Train Running - Doobie Brothers

She Bangs - Ricky Martin
Simply The Best - Tina Turner
Dancing In The Street - Jagger & Bowie
River Deep Mountain High - Tina Turner
Shoop Shoop Song - Cher
I Will Survive - Gloria Gaynor
Disco Inferno - The Trammps
YMCA - Village People
Car Wash - Christina Aguilera
Let Me Entertain You - Robbie Williams
Good Times - Chic
Everything I Do - Bryan Adams

Basket Case - Green Day
Brown Eyed Girl - Van Morrison
Brown Sugar - Rolling Stones
Le Freak- Chic
Dancing Queen - Abba
Lady Marmalade - Christina Aguilera
Mama Mia - Abba
Play That Funky Music - Wild Cherry
No Woman No Cry - Bob Marley
Sweet Child Of Mine - Guns n Roses
Hotel California - Eagles
Super Duper Love - Joss Stone
Jumping Jack Flash - Rolling Stones
You're The One That I Want - Grease

Flip Flop Fly - Blues Brothers
All Shook Up - Elvis
La Vida Loca - Ricky Martin
Rock Around The Clock - Bill Haley
Smooth - Rob Thomas & Santana
Johnny B Goode - Chuck Berry
Rockin' All Over The World - Quo
Day Dream Believer - Monkeys
When You're Gone - Bryan Adams & Mel C
Summertime - Standard
Angels - Robbie Williams
Do You Love Me - Dirty Dancing
Fly Me To The Moon - Frank Sinatra
Knock On Wood - Amy Stewart
Sk8er Boi - Avril Lavigne
Summer of '69 - Bryan Adams
Friends - The Rembrandts
This is a sample of our repertoire. This list is not comprehensive and is constantly being added to. Given enough time, the band would be able to learn and perform a specific song, for example for a 'first dance'.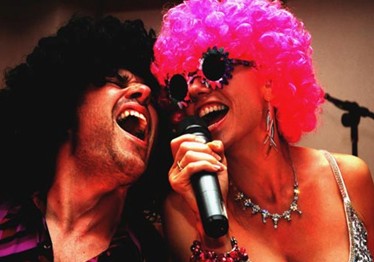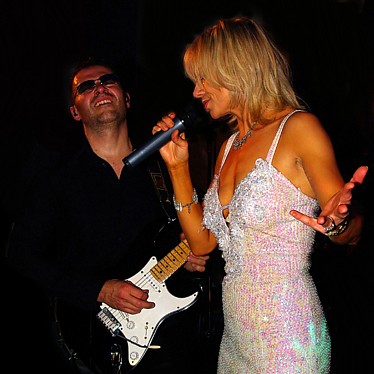 The Band

Wendy Working as a professional and semi-professional lead singer, Wendy has delighted audiences in hundreds of venues across the UK and internationally. Anyone who has seen Wendy perform live will agree that she has that rare combination of sparkling on-stage presence and a voice to die for (not to mention being fairly easy on the eye!!). Wendy loves nothing more than to front up this band, and has consistently delivered stunning vocal performances with energy and excitement. As the lone girl in the band, Wendy is also remarkably tolerant of the guys' various habits - as long as she has her radio mic, a sparkly outfit and an audience ready to party, she's happy.

Bill Bill is the showman in the band and just loves to wow a crowd! He likes nothing better than to launch into a powerful and emotional guitar solo and watch the faces in the audience glow with excitement and anticipation... in his mind's eye, anyway. Bill has been playing and singing in bands for many years both here in the UK and abroad. Best known for his legendary rock solo renditions, Bill believes that he's one of the finest guitarists in the Universe and boy, don't the rest of the band know it! Far from being the shy type, Bill will always be the first to jump off the stage into the arms of his adoring fans, put on the most outrageous wigs, glasses and false teeth, or sprint out of the room onto the patio (all whilst massively soloing, of course) to get the few remaining members of the crowd to come in and dance to 'Summer Of '69' or 'Sweet Child Of Mine'.

Dave Our drummer can be summed up in one word... The Rock (okay, two words). Dave has played in rock, pop and party bands for 384 years, and has forgotten more about 'multi-pulse ostinatos' than the rest of us will ever know. Unlike many drummers, Dave practically invented 'light and shade' and his ability to switch between delicate ballads, pumping disco and huge rock anthems is one of the bands great assets. Dave's reliability on-stage is just as evident off-stage; no matter how early the rest of us arrive at a venue, Dave is already there and set up. Dave is a great drummer (he could make statues dance), and a delight to work with - all in all a bona-fide 168 beats-per-minute powerhouse.

Geoff If Dave is The Rock, then Geoff loves TO wrok. You'd never guess that this unassuming, softly spoken Yorkshireman could turn into what can only be described as a Machine of Bass. Switching between his Fender Precision and Warwick Rock bass guitars, Geoff occasionally spontaneously breaks out in a curious, but highly entertaining high-steppin' dance (which we speculate that he learned when on tour with Hot Chocolate). He has also been caught 'machine-gunning' the crowd with his guitar, which he thinks is still cool (correctly in the event, since everything Geoff does is cool). Geoff not only plays a key role in everything that we do, but keeps us laughing from start to finish.

Pete If music were the food of love, Pete would be Mr Barry White himself! In no particular order Pete plays piano, bass, harpsichord, guitar, saxophone, double bass, flute, recorder and frisbee - any one to a level that most people only dream of. Best known for his stunning keyboard performances, Pete is a superb Jazz musician and has regularly performed at Ronnie Scott's and music festivals around the country. With fingers like an octopus, Pete simultaneously provides sparkling piano, strings and funky brass section to authenticate any style of song, be it pop, rock, funk, soul or ballad. If this weren't enough, Pete also sings an excellent third part harmony with Bill and Wendy. Just how he manages to do all of this is anybody's guess!!!




Area: BUCKS - Nationwide