Bagpipers for hire for Corporate and Private Functions, Book a Bagpiper for Weddings and Funerals. Rent a Scottish Piper for your occasion, Book a Piper player, we have Scottish Bagpipers for hire Playing Highland Bagpipes
Piper Ref: P1 is an experienced piper, born and bred in Scotland. He is available to hire for any occasion, including weddings, parties, functions and funerals. Rob was a member of the Surrey Pipe Band for five years, in which time he played on numerous band engagements, including the Surrey County Show, Hendon Police College passing out parade and the Star & Garter Military Tattoo at Royal Armouries, Fort Nelson.

He plays 'McCallum' and 'Inveran' Great Highland Bagpipes but can also offer Scottish smallpipes for more confined venues.
Covering London & Southern England (and further by arrangement).

Piper Ref: P2 has been playing the Highland Bagpipes since the age of 10.
He grew up along side good friend and Ex Scots Guards Piper, Steve Duffy, whom he plays in a Ceilidh band with today.
Having been proudly associated with the highland bagpipes, he continues to compete in piping competitions, very recently he has been competing in the Scots Guards Association Pipe band, led by Pipe Major Steve Duffy.
He is a world class musician always endeavouring to promote a positive roll for bagpiping.
Oxfordshire and surrounding counties

Piper Ref: P3
Following a distinguished career as Pipe Major of one of Scotland's most famous Regiments, The King's Own Scottish Borderers, this Piper found himself both in demand both in the United Kingdom and overseas, as a professional piper, entertainer and ambassador extraordinary.
His international successes encouraged him to form The Balmoral Highlanders to satisfy the enthusiastic demands being placed upon him.

Balmoral Highlanders
From a solo piper to a full concert programme.
The Highlanders can provide all your needs, specialties include a solo piper for weddings and receptions to any combination of solo and team dancers for both.

Highland and Scottish Country Dance. From a mini pipe band to full pipes & drums, your occasion, both indoors or out can be enhanced to the extent of your requirements.
Piper Ref: P4
Born in Glasgow, the son of a Pipemajor in the "Kings Own Scottish Borderers" who was also a Glaswegian plays in a Pipeband in Cheshire supporting local communities and Armed Services Organisations.

This Piper plays at funerals/weddings Burns Suppers/ and The Manchester Branch of the Highland Society at their monthly ceilidhs.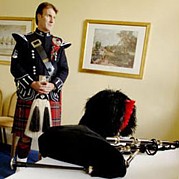 Price From £300.00
Area: London - Nationwide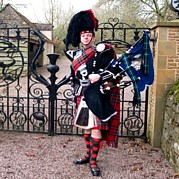 Price From £300.00
Area: Oxford - Nationwide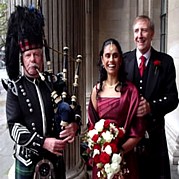 Price From £300.00
Area: London - Nationwide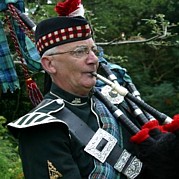 Price From £300.00
Area: Cheshire - Nationwide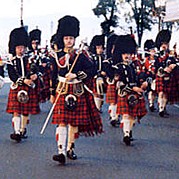 Price From POA
Area: London - Nationwide